A full encirclement split tee is used when hot tapping into a pipeline. It is a pipeline fitting designed such that the inner diameter of the fitting is the same size as the outside diameter of the pipe that will be hot tapped.
As a rule of thumb, a split tee is used when the branch connection is equal to or greater than half the diameter of the run direction. (The run direction is the direction of flow in the pipe that is being cut into.) If the branch vs. run direction is approaching this limit, it is extremely important to reference the organizations hot tap and piping standards to ensure the designer is in compliance.
Benefits of a split tee:
There are multiple benefits of using a split tee. Aside from the obvious, being able to tie into a line while it remains in service, a split tee is:
Suitable for hot tapping activities and for installation of line stops. (Commercially, a line stop could be a Stopple which is installed in a line when a repair is necessary and the line cannot be taken out of service.)
When done correctly, no potential for weld to penetrate tapping area. Though care needs to be taken not to penetrate the line that is being welded on. Welding burn through could cause the line to fail.
Full bore split tees are available. Generally there is a full complement of reducing branch sizes when using a split tee.
Split Tee Images
Vertical Split Tee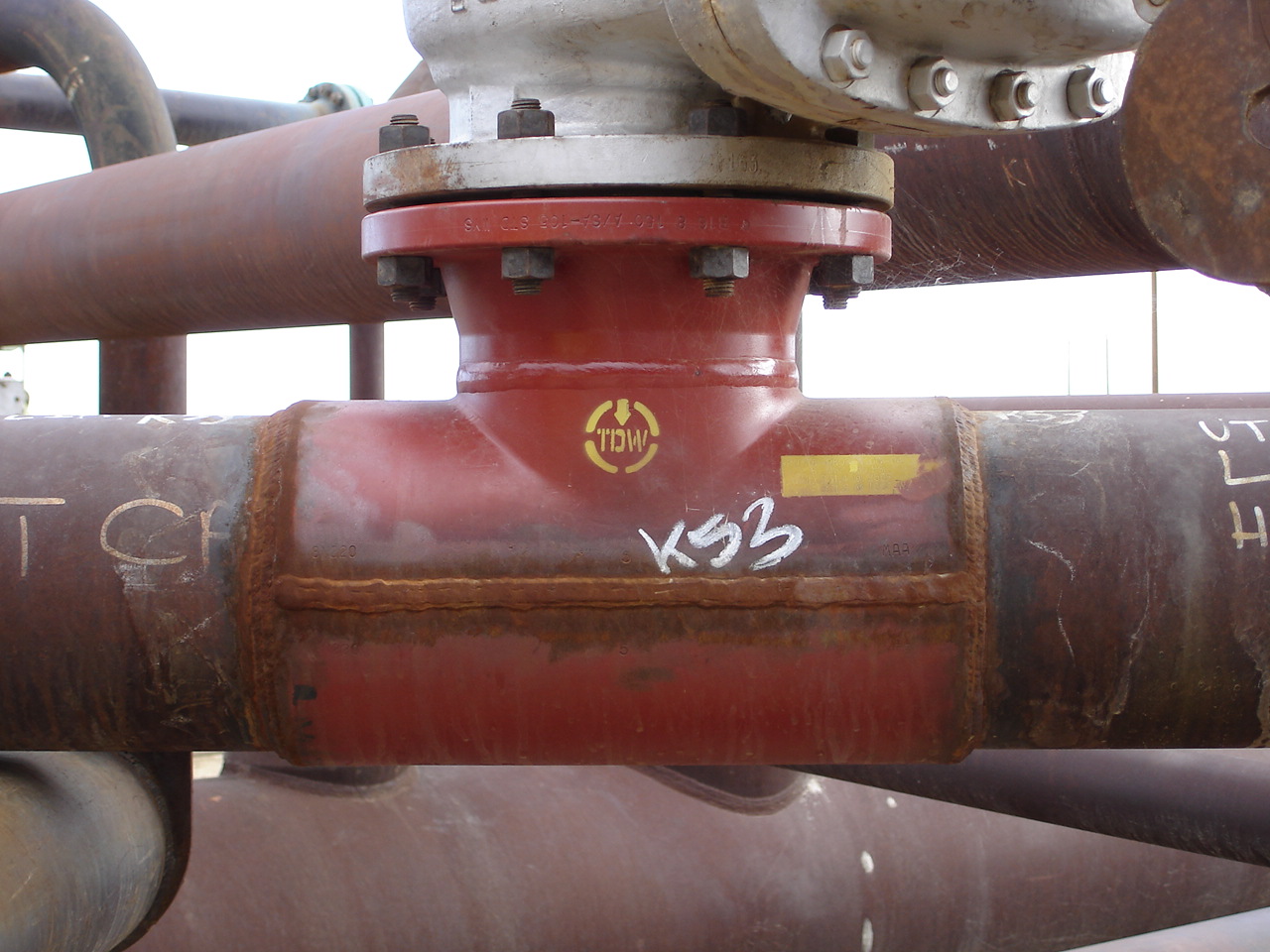 Horizontal Split Tee
Split Tee with cutout
Considerations When Hot TApping with a Split Tee
Is the pipe internally coated or cement lined? If so, a split tee is unacceptable. The heat from welding can cause the coating to flake off and any protections made by the coatings will no longer be valid. During the hot tap process, the tool will damage the coating or cement lining. This, too, will remove the ability for coating to protect the pipe at the hot tap.
Does the pipeline have a sustained flow rate to carry the heat generated by welded or the hot tap tool? If not, a full shutdown should be considered to make the tie-in.
Is there a presence of chemicals that may induce stress cracking or corrosion? Examples of these are caustics, amines, nitrates, sulphur, etc.
Are there chemicals in the line that might self ignite if exposed to the heat of the welding or hot-tap tool? This self ignition could cause sudden and catastrophic failure of the line.
Is the current line thickness thick enough to weld on without burning through the pipe? Refer to API 2201 Section 6.4 for minimum thicknesses.
Weld inspection is required of the welds made to the split tee. API 2201 approves the use of dye penetrant, ultra-sonic, or magnetic particle inspection is also recommended before the hot tapping machine is installed.