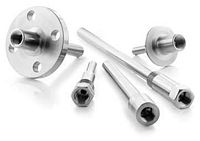 Thermowells, abbreviated as TW, are used in temperature measurement and provide isolation from the temperature sensor and the process fluid. They may be flanged or threaded, depending on the design. Thermowells are designed to accept different types of temperature probes such as RTDs and thermocouples. Because they keep the sensor isolated from the process, the sensor can be repaired without interrupting the process.
Characteristics
shank types
Straight Shank - Also known as a uniform shank. This is the cheapest and most common. They have a high degree of surface area and are intrusive to the flow path. This may not always be the best choice for high velocity streams.
Stepped shank thermowells have less surface area than straight shank types, and therefore allow smoother velocities around the barrel.
Tapered shank thermowells provide increased sensitivity and have the lowest surface area of all three designs. They are the best choice for high velocity streams.
Stem Length
Overall length of the thermowell measured from bore to end of well. Stem Length is often referred to as "L" which is equal to the sum of the insertion length and lagging length.
Socket/Stem Insertion Length
The distance from the end of the well to the underside of the thread, or other connection means, also know as "U" dimension. The length should be long enough to permit the entire temperature sensitive part of the sensing element to project into medium being monitored. As a rule of thumb, the thermowell should extend into the process a minimum of 10 times the sensor diameter. Ideally, the sensor should extend into the process fluid between 1/3 and 1/2 the diameter of the pipe. The insertion length must also take into consideration any dead length required to pass through walls and pipe fittings into the media.
Bore Diameter
The selection of proper bore diameter allows the same well to accommodate various temperature sensing devices. Typical values are .260 or .385 to accommodate 1/4" and 3/8" Diameter sensors.
Lagging Extension
Lagging extension thermowells are used on applications where insulation covers the vessel or piping system.
The extension length (T-length) is the measurement between the instrument connection and process connection
of the thermowell.
Process Connection
Thermowells are typically available in the following process connections:
NPT thread
Weld-in
Flanged RF or RTJ
Socketweld
Limited Space threaded
Ground Joint
Sanitary
Materials
Most thermowells are readily available wth the following materials.
Brass
Carbon Steel
304 Stainless Steel
316 Stainless Steel
Monel
Hastalloy
Thermowells are available in exotic metals.
Standards
ASME Standards

ASME PTC 19.3 TW - Thermowells
Artical Links