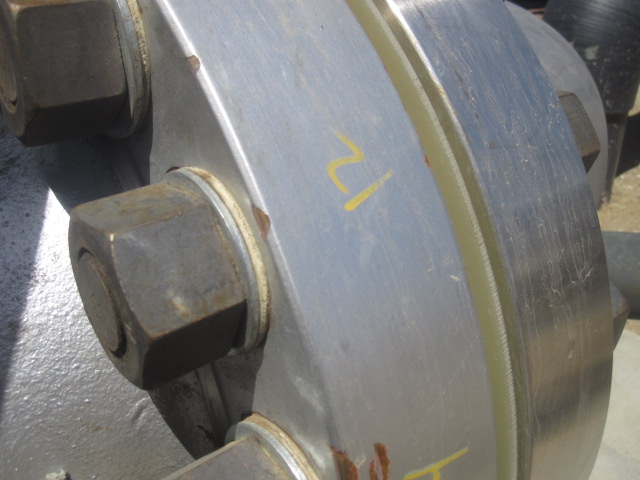 Tags: Cathodic Protection Gasket
Isolation gaskets (Flange Insulating Kit) are used to stop the current flow across metallic pipelines by separating two flanges. The isolation of these pipeline segments allows cathodic protection for underground and above ground pipelines to control the stray electric current flow. Flange isolation gasket kits provide both an effective seal and reliable electrical isolation of flanges. They are constructed of materials that have a high dielectric constant and low water absorption and are available in various configurations.
Isolation Gasket Type D (RTJ)
This gasket is designed to specifically fit into the groove of ring type joint flanges and come in both oval and octagonal shapes.
Isolation Gasket Type E (Full Face)
A full face insulating gasket centers the gasket within the flange by the bolts. This gasket covers the whole face of the flange making it less likely of a short across the flanges by any foreign material.
Isolation Gasket Type F (Rased Face)
A ring insulating gasket is centered within the bolts of the flange. This gasket only covers the face of the flange making easier the possibility of a short across the flanges by any foreign material.
Seal Type O
These gaskets have a sealing element on each side of the gasket and are available in Type E and F styles. Gasket and O-ring are available in different materials to maintain constant contact with the flange face.
How to Ordder
Flange size and pressure rating
Nominal pipe size
Gasket face Type D, E, F, O
Gasket Material
Sealing element
Single or double washer set
Back washer material
Sleve material
Gasket Installation Procedure
Verify that the installation kit contain the material specified and the contents are not damaged.
Clean the inspect pipe flange faces and apply lubrication oil to all threads.
Install the gasket and align the flanges and gasket so that bolts will be centered.
Use alignment pins in two diametrically oposition bolt holes whenever possible to assure alignment of flanges and gasket.
Insert insulation sleves into the bolt holes taking care not to use force which could damage the sleve material.
Insert the bolt with both insulating washers against the flanges followed by the steel washer and nut.
Tighten two diametrically oposed bolts to start with remove the two alignment pins as needed. Following the bolt tightening procedure for the correct flange size.
Bolts should be of sufficient length to extend through the nut approximately 1/4".

Tags: Cathodic Protection Gasket