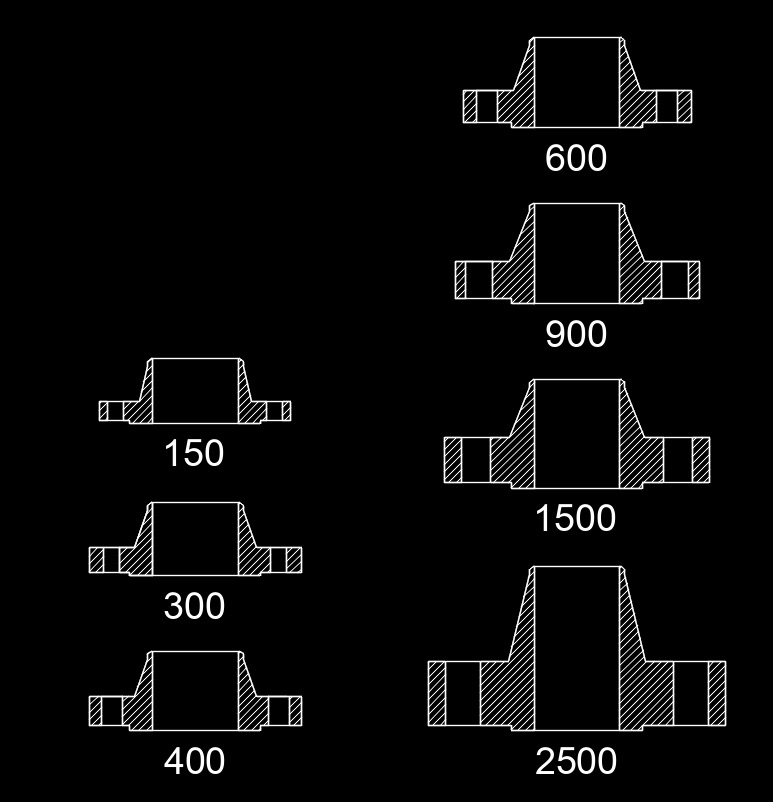 Tags: Pipe Flange Valve Gasket Pipe Flange Datasheets
Perhaps the most common type of flange facing is the raised face flange, abbreviated as RF. It is used in almost all applications in high and low pressures and temperatures.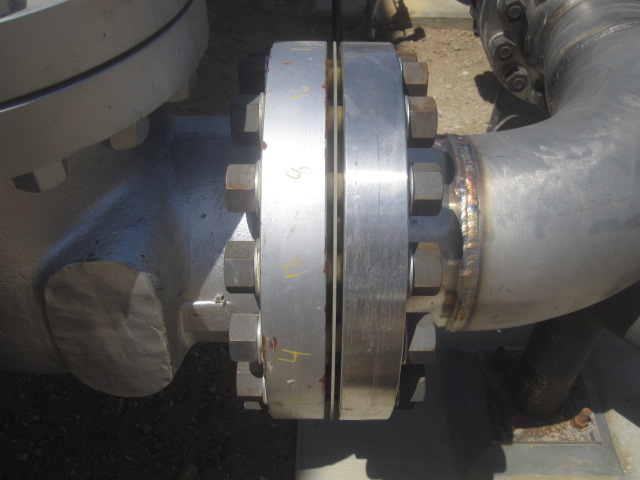 The face of the flange is either 1/16" or 1/4" depending on the pressure class. ANSI 300 and under have a 1/16" raised face and ANSI 400 and above have a 1/4" raised face. The mating face is machined to have shallow grooves in it to ensure a positive grip with the gasket. The
Raised face flanges are available in most types of flanges. Some of these are blind flanges, lap joint flanges, slip-on flanges, socket weld flanges, threaded flanges and weld neck flanges. All of the ANSI pressure classes are available with raised face flanges.
Gaskets for a raised face flange can be whatever is suited for the process. They can be spiral wound gaskets or non metallic gaskets. This is fully dependant on whatever is required by the process stream.
Raised Face Flange Design Considerations
As with all the other flange facings, it is important to ensure that the mating flange is compatible with whatever flange you are using. For example, flanges that are built to AWWA standards are different than flanges that are built to ASME B16.5, although they look similar.
When looking at flange tables, the dimension of the face is not always included in the dimensional data. Always be sure whether or not the length dimension is included. The dimensional data at Piping Designer does not include the dimension of the raised face.
Raised Face Flange Datasheets

The datasheets we have on this site are shown below. For simplicity sake, only datasheets that adhere to B16.5 are shown. ASME B16.5 covers flange dimensions from ½" to 24". For sizes larger than this, please visit our flange datasheets page.

Blind Flange
Lap Joint Flanges
Slip-On Flange
Socket Weld Flanges
Threaded Flange
Weld Neck Flange
ANSI 150
Blind, ANSI 150 (in)
Lap Joint, ANSI 150 (in)
Slip-on, ANSI 150 (in)
Socket, ANSI 150 (in)
Threaded, ANSI 150 (in)
Weld Neck, ANSI 150 (in)
ANSI 300
Blind, ANSI 300 (in)
Lap Joint, ANSI 300 (in)
Slip-on, ANSI 300 (in)
Socket, ANSI 300 (in)
Threaded, ANSI 300 (in)
Weld Neck, ANSI 300 (in)
ANSI 400
Blind, ANSI 400 (in)
Lap Joint, ANSI 400 (in)
Slip-on, ANSI 400 (in)
Socket, ANSI 400 (in)
Threaded, ANSI 400 (in)
Weld Neck, ANSI 400 (in)
ANSI 600
Blind, ANSI 600 (in)
Lap Joint, ANSI 600 (in)
Slip-on, ANSI 600 (in)
Socket, ANSI 600 (in)
Threaded, ANSI 600 (in)
Weld Neck, ANSI 600 (in)
ANSI 900
Blind, ANSI 900 (in)
Lap Joint, ANSI 900 (in)
Slip-on, ANSI 900 (in)
Socket, ANSI 900 (in)
Threaded, ANSI 900 (in)
Weld Neck, ANSI 900 (in)
ANSI 1500
Blind, ANSI 1500 (in)
Lap Joint, ANSI 1500 (in)
Slip-on, ANSI 1500 (in)
Socket, ANSI 1500 (in)
Threaded, ANSI 1500 (in)
Weld Neck, ANSI 1500 (in)
ANSI 2500
Blind, ANSI 2500 (in)
Lap Joint, ANSI 2500 (in)
Slip-on, ANSI 2500 (in)
Socket, ANSI 2500 (in)
Threaded, ANSI 2500 (in)
Weld Neck, ANSI 2500 (in)